One of the most coveted warm-weather destinations on Earth, Greece might as well have invented postcards. Travelers from all over the world flock here to peruse ruins in Athens, sunbathe in Mykonos, and photograph the cobalt-roofed buildings on the cliffs of Santorini. But we urge you to see the cities in Greece that are under the radar.
Instead of fighting against throngs of tourists during peak travel months, it's worth thinking outside the box—especially considering the sheer number of underrated cities in Greece.
They run the gamut from charming port towns that act as launch pads for some of the most stunning beaches in the country (made up of thousands of islands) to historic sites that've been around since the Ottoman Empire.
Here are some of the best cities in Greece to visit.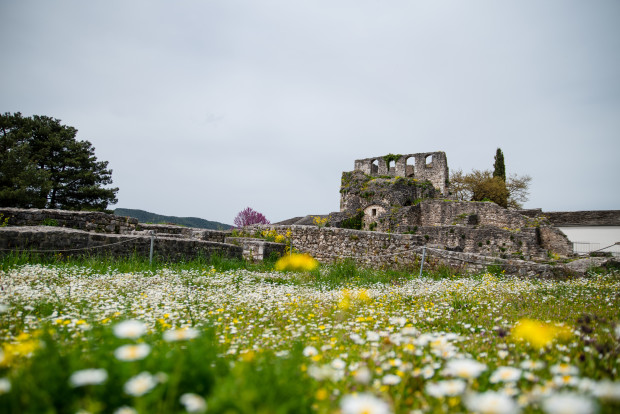 1. Best for Archeology Buffs: Ioannina
While most people longing to visit Greece picture the blue waters of the Ionian or Aegean Sea, this beautiful capital city of Epirus is located on a scenic lake. About 30 miles from the Albanian border, Ioannina is a confluence of cultures, with an intriguing blend of Christian, Jewish, and Islamic influences. Archeological museums are musts here, along with historical sites such as the Veli Pasha Mosque and the beautiful Byzantine churches dotting the city. The crowning jewel, the Castle of Ioannina, is the oldest fortress in Greece—built back in 528 AD. Visit Ioannina during fall to catch a spectacular color display around the lake.
Where to Stay in Ioannina
The perfect mix of old and new, Kamares Boutique Hotel can be found inside an 18th-century historic mansion in the Shiariva district in downtown Ioannina. Near the Cathedral Church of Agios Athanasios, the property's central location is a huge draw, while modern amenities include a fitness center and spa.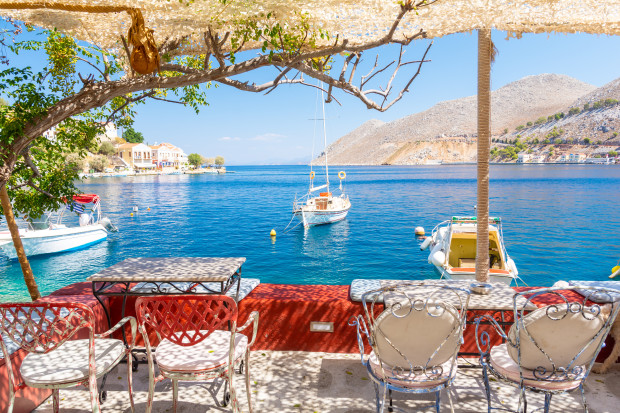 2. Best for Secluded Beaches: Symi Town
The mountainous island of Symi is part of the Dodecanese group in the Aegean Sea—formerly serving as a hub for the sea sponge trade (you can still grab one of the aquatic organisms today). Unlike popular beach destinations such as Mykonos, Symi is full of secluded beaches where you won't be fighting for your spot on the sand. Don't miss the stretch of beach at Panormitis or the Monastery of the Archangel Michael Panormitis. Symi's beautiful harbor and neoclassical architecture are also great reasons to visit, especially during the annual festival held from July through September, with its cultural performances and other events.
Where to Stay in Symi
Just a few minutes from the town center and harbor, Iapetos Hotel still feels incredibly removed and peaceful. Lodgings range from single guest rooms to family-style maisonettes, all clustered around an exotic garden and pool.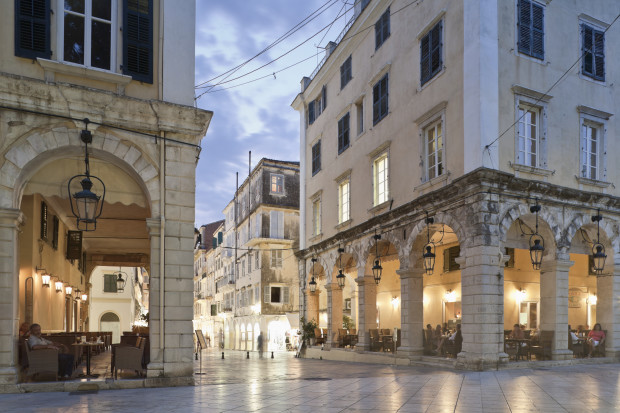 3. Best for Elegant Charm: Corfu Town
Lively and layered with history, Corfu Town is a must-see for those making the pilgrimage to the island of Corfu. There, you'll take your time exploring the tangle of narrow side streets and listening to seabirds flying overhead while you enjoy meals and drinks al fresco. Make sure to grab a gyro at Taverna Ninos and a sunset drink on the rooftop of the Cavalieri Hotel. Sunwashed Venetian buildings and ancient churches make up much of the old town, and a photogenic swimming spot behind the Museum of Asian Art called Faliraki Beach is a great place to catch some sunshine.
Where to Stay in Corfu
Siorra Vittoria provides a central pad just a few steps from the Old Town, with a secluded central garden area for enjoying breakfast or simply reading a book. Rooms are whitewashed and elegant, with original details of the 19th-century building still intact.
4. Best for a Coastal Getaway: Nafplio
This coastal city (spelled both Nafplio and Nafplion) used to serve as the capital of modern Greece and is considered one of the most beautiful cities in the country—frequently visited by Athenians for its historic streets and scenic harbor. Besides strolling and checking out the three fortresses located in the city's margins, Arvanitia Beach is known for crystal-clear water and colorful pebbles. Set on a small inlet off the coast of the town, the 15th-century medieval fortress called Bourtzi Castle is also worth a trek.
Where to Stay in Nafplio
A design-centric hotel with a focus on simplicity and natural materials, Amymone Suites in Old Town is a relaxing stay with suites featuring views of sites such as Acronafplia, the Bourtzi water castle, and Palamidi Castle. Breakfast at the Wild Duck restaurant features homemade baked goods and dairy from the family creamery.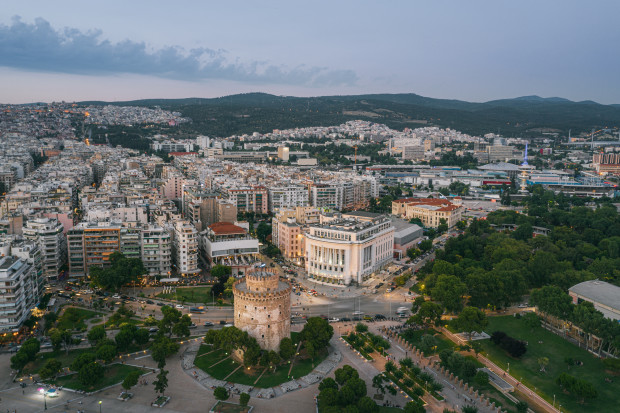 5. Best for History Buffs: Thessaloniki
Over 3,000 years of history has transformed the northern city of Thessaloniki into a vibrant, cosmopolitan city, now deemed the cultural capital of the country. A visit here not only yields Roman ruins, Ottoman buildings, and Byzantine churches, but also boisterous nights out on the town with lots of live music. Make sure to take a walk along the waterfront and marvel at the 15th-century White Tower overlooking the sea, then hit as many restaurants as you can for a true taste of this gastronomic powerhouse. A few beloved spots include the scene-y cafe Moúrga, modern Cretan taverna Deka Trapezia, and the family-run bakery Bougatsa Bantis.
Where to Stay in Thessaloniki
Behind its bleached facade, The Excelsior is a boutique property in the heart of the city. Enjoy chic design with clean white furnishings and an imposing marble staircase. Rooms are tasteful and contemporary, and breakfast is included in your stay.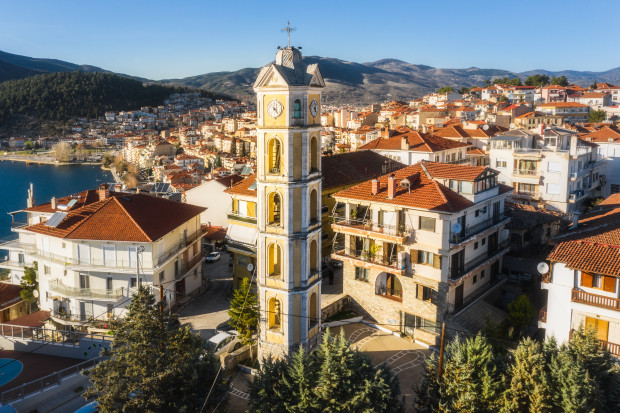 6. Best for Dodging Tourists: Kastoria
Often compared to the Amalfi Coast (sans the hordes of tourists), the city of Kastoria sits along a promontory that extends out over Lake Orestiada. Surrounded by rocky, wooded limestone mountains, Kastoria isn't just beautiful nature—but it's also known for amazing cuisine and fantastic nightlife. Despite all of this, it's a severely underrated destination that tends to be overlooked by international tourists. Make sure to peruse the Byzantine Museum of Kastoria, visit the underground Dragon's Cave, and sip tsipouro (a local version of ouzo, a popular anise-flavored aperitif) at Stardust along the water.
Where to Stay in Kastoria
A renovated stone mansion, Hotel Doltso is located just steps from the water. Rooms are rustic yet luxurious, and the grounds include a garden-view balcony and a cafe with a fireplace. Easily explore the surrounding city by foot, or hop on the hotel's free bicycles.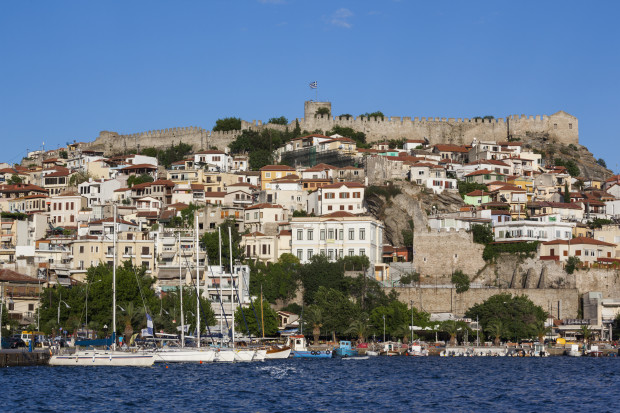 7. Best for Relaxation: Kavala
The northern port city of Kavala is shaped in an arch at the base of Mount Simvolo, and is accessible by ferry from several nearby islands like Mykonos, Piraeus, and Syros. Its old town area of Panagia has been inhabited since the 7th century BC, and is now home to historic landmarks such as the church of Virgin Mary's Assumption and Suleyman the Magnificent's aqueduct. Tons of bustling eateries can be found along the harbor, like Balaouro and Savvas Seafood. Gorgeous beaches are also nearby, providing a relaxing respite after a long night out.
Where to Stay in Kavala
Overlooking the harbor on a picturesque hillside is Imaret, a luxe hotel devoted to showcasing the opulence of the Ottoman Age. Originally built in 1817, the building was a gift from Mehmet Ali, the modernizing ruler of Egypt in the 1800s, to his birthplace of Kavala. Find lavish quarters and a beautiful, tree-lined inner courtyard pool.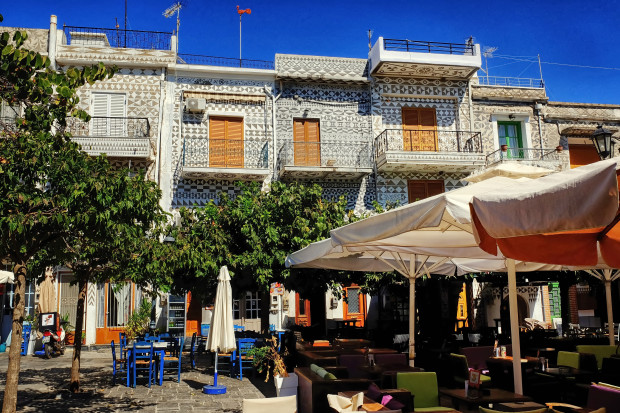 8. Best for Food and Drink: Chios
One of the North Aegean Islands, Chios is located a mere four miles from the coast of Turkey. Its landscape is a veritable cornucopia, replete with olive, figs, and wine—making it the perfect destination for gastronomic experiences. You can spend time in Voukianiou Square (the main plaza) with shady cafes and a line of old-school ouzerie-cafeneons, where locals sip ouzo and play table games. Don't miss a visit to the old central market to try loukamades, deep-fried local delicacies covered in honey, and spend a morning at a waterfront cafe on Aegiou Street with a frappe. Late nights in Chios can be spent bar-hopping and smoking hookah.
Where to Stay in Chios
For the best location (and views), book a stay at Chios Chandras, which offers panoramic views of the Aegean Sea. Following a recent renovation, rooms and suites are modern and clean with a minimalist aesthetic in hues of white and blue.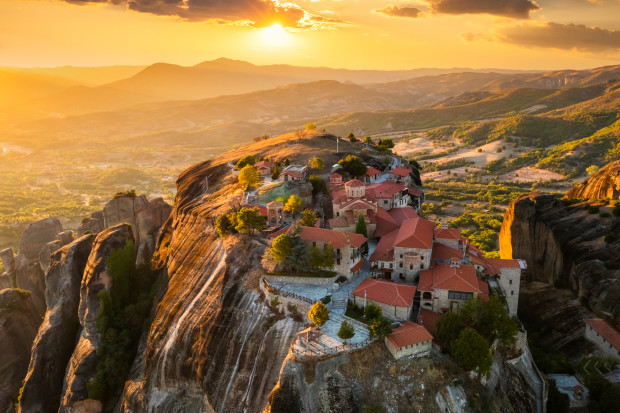 9. Best for Photography: Kalambaka
Most travelers to Kalambaka venture there to visit Meteora, and you can't blame them for it. A striking rock formation that means "suspended in the air" in Greek, Meteora houses 24 monasteries all parked on top of its rocky peaks. Aside from the monasteries, hiking trails that lead to caves and waterfalls make the area mysterious and special. The town itself is a peaceful destination with a tasty selection of cafes and restaurants serving traditional Greek cuisine, as well as unique attractions such as the Natural History Museum of Meteora and the Mushroom Museum—with over 250 species of mushrooms on display and regular events hosting truffle hunting and pasta making.
Where to Stay in Kalambaka
Set right in front of the Meteora sandstone monasteries, Divani Meteora offers modern rooms in an ancient setting. An outdoor pool looks out at the imposing scenery of Meteora, and the Kalambaka train station is just a 10-minute walk away.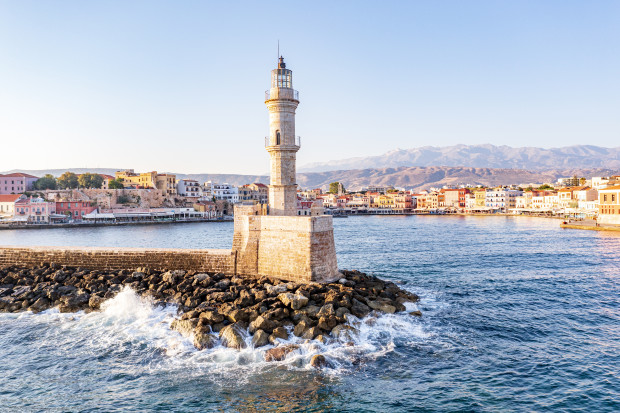 10. Best for Offbeat Culture: Chania
Oozing charm, the coastal city of Chania is located on the island of Crete. Many people visit for its proximity to some of the most beautiful beaches in the world, such as Elafonisi Beach with its unique pink sand and turquoise waters. The town itself is also worth an extended stay. It's a melting pot of Venetian and Turkish culture, and traditional and modern architecture. The main thrum of the city is around the harbor, where you can find interesting museums, busy restaurants and bars, and local craft shops.
Where to Stay in Chania
While prime views of the Old Venetian Harbor are a huge draw for the Porto Veneziano Hotel, it's the friendly and gracious staff that has guests returning to the hotel time after time. Pair that with clean, modern rooms that include wrought-iron balconies and a location that puts you five minutes from the popular Koum Κapi Beach, and you've got a winner.