Interest in fat bikes is rising and new models are coming to market. We dug deeper to see what all the hype is about—and if purchasing a fat bike is worth it.
Around 2015, there was a boom in the cycling industry. Suddenly, major brands and garage shops alike were touting mountain bikes with massive tires—tires effectively twice as wide as a standard mountain bike tire. Fat tire bikes, better known as fat bikes, had arrived, and they took the mountain bike industry by storm. Then, after a couple years, the boom went bust. But recently, fat bikes have started to generate interest again, both among cyclists and bike brands. Is the promise of year-round riding enough to reconsider the fat bike—and maybe even buy one of your own? I decided to find out.
What's a Fat Bike?
Fat bikes are designed to ride over terrain that would otherwise be difficult or impossible to traverse on a regular mountain bike—think snow and sand where tires sink in or can't find traction. They're generally categorized as having 3.8-inch or wider tires, and they can run tire pressures as low as 5 psi (compared to 20+ psi for a standard mountain bike), which allows them to "float" over soft surfaces.
These versatile rides have been around for decades. Various experiments with wider rims (or sometimes multiple rims paired together) and fat tires in the late '90s led to the first production fat bike frames in the early 2000s—most notably the Surly Pugsley. Other bike manufacturers rolled out their own designs in the following years, and the craze reached a fever pitch in 2015, when fat bikes began appearing in every cycling trade show on the planet.
Related: These Are the Best Skis of All Time
In the years immediately following that boom, fat bikes became commonplace at local trailheads, and it seemed as though everyone was proselytizing their benefits. But then the popularity of fat bikes waned. Due to declining sales numbers and interest, many bike brands cut back the number of fat bikes in their lineups to one at most. By most accounts, fat biking was little more than a fad.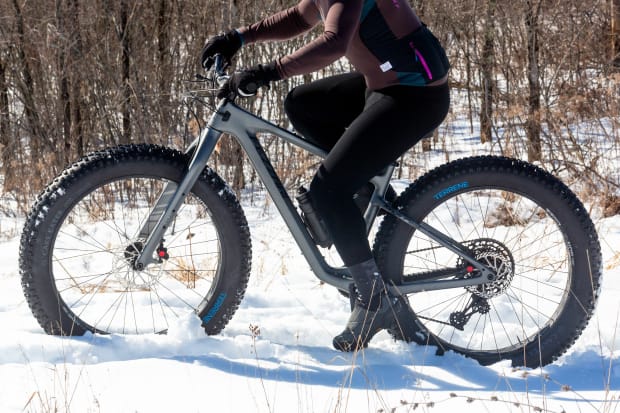 The Return of the Fat Bike
But is there a turning point on the horizon for the fat bike industry? Despite major brands like Specialized, Cannondale, and Scott removing fat bikes from their lines altogether, many other brands are doubling down. Trek just launched a new version of its Farley fat bike. Direct-to-consumer brand Fezzari released the Kings Peak fat bike earlier this winter; it features a carbon frame and more rack mounts than your average touring bike. Even hyper-luxe boutique brand Moots recently launched a new fat bike called the Forager to replace its earlier Frosthammer fat bike. By this writer's estimation, fat bikes could finally be finding their equilibrium.
The new spike in interest could be fueled by the COVID-19 bike boom that saw millions flock to their local bike shops in search of outdoor recreation. Three years on, perhaps these newly minted riders are looking for ways to continue their new hobby through the winter months or in new locales, once again fueling sales of these monster-tired two-wheelers.
Related: The Best Hitch-mounted Bike Racks, Cargo Carriers, and More
But an analysis of the hive mind of the cycling industry points to something broader than that. Fat bikes are once again being discussed with some frequency in endemic cycling publications like BikeRumor and Singletracks. Mountain bike advocacy groups like the Vermont Mountain Bike Association are launching trail information hubs tailored to fat biking. And trailheads are even filling up on winter weekends as fat bikers flock to get the goods.
But don't just take my word for it. Adam Morse, Executive Director of Fellowship of the Wheel (a nonprofit that advocates for and maintains 100+ miles of public multi-use trails in Chittenden County, VT), attributes the current rise in fat biking to an overall growth in mountain biking as well as advancements in bike technology.
"The quantity and quality of beginner- and intermediate-friendly trails has made mountain biking a more inviting sport," Morse tells Men's Journal. "Additionally, the development of bicycle technology has made for a slew of options which cater to individual riders' needs. When looking at winter specifically, these two themes prevail and surely contribute to the number of users we are seeing."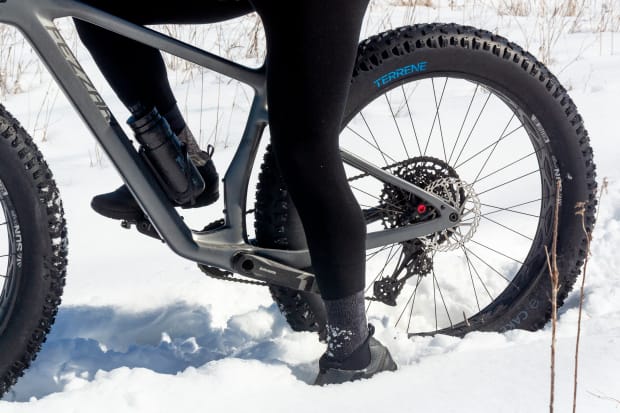 Morse also points to the advancements in winter grooming operations at fat bike trails as a driver in the resurgence of the sport.
"Only a decade ago, grooming operations were primitive and the clientele had to be nothing short of hardcore to want to come back for more," Morse says. "With the development of better grooming and more knowledge about the sensitivity of snow conditions, it has made for winter trails which ride better for a broad range of users. Pair that with more advancements in fat bike technology, which enhance the ride quality, and you have a recipe for success."
Moots brand manager Jon Cariveau has also seen a bit of an uptick in the fat bike category, though he doesn't necessarily agree with my classification of the trend.
"'Resurgence' may not be the right word in our case, but as riders have grown to love the adventure on a fat bike they have 'leveled up,' so to speak, in their choice of gear," he says. "We feel there were a lot of entry-level fat bikes that hit the market and allowed riders to have one in their quiver, and as they fell in love with riding more in the depth of winter, they could justify the next purchase."
Like Morse, Carvieau also attributes the growth in the fat bike industry to better technology.
"The fat bike rider of 2023 looks much different than they did when we first made one almost 20 years ago," he says. "At that time, it was very niche and [a] somewhat cobbled together mix of parts. In current times, the bikes are so dialed and way less finicky. Experimenting with geometry that reflects modern mountain bikes has been a huge win for better riding fat bikes."
Related: The 17 Best Side-by-Side UTVs of 2023
Who Are Fat Bikes For?
My own curiosity about fat bikes mainly stems from wanting to escape the confines of my Wahoo Kickr stationary bike trainer in my office. Here in the Northeast, where I live, it's rare to get a stretch of winter days nice enough to take training rides outside—at least while riding a traditional road, gravel, or mountain bike, anyway. With a fat bike, the dream of riding outside at my favorite trail networks year-round is an attainable one.
I can't help thinking there are plenty of others out there like me—cyclists looking for ways to pedal outdoors in the colder months that don't involve studded road bike tires and cleaning salt and grime off your nice road bike after every ride. If that's true, then there are plenty of riders in the market for fat bikes.
Could fat biking be the office escape I was looking for? A reprieve from my indoor trainer and gateway to winter outdoor training? Only one way to find out.
Over the past week, I took my training plan outdoors with the Fezzari Kings Peak (starting at $2,499) and the Moots Forager ($9,653 as tested)—two high-end, high-performance fat bikes with different approaches and appeal.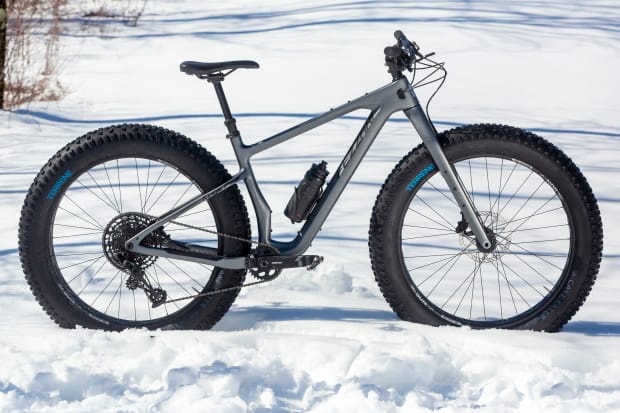 Fat Bike Riding Impressions: Fezzari Kings Peak
The Fezzari is a direct-to-consumer carbon fiber touring and race machine with rack mounts and bottle bosses everywhere from the top of the top tube to the bottom of the downtube. Even the fork has rack mounts on either side. It's designed to go anywhere. In fact, Chris Burkard recently rode one 300 miles across Iceland in the winter.
When I first got on the Fezzari, I felt far more comfortable riding it than I had anticipated. In reading lots of forum posts about fat biking, I saw refrain after refrain about fat bikes' Q factor, or the width between the cranks. On a fat bike, the Q factor needs to be much wider than a normal bike to accommodate the extra-wide tires. For some, this can make fat bikes uncomfortable to pedal. But on the Fezzari, I had no issues and could ride for mid-length training rides (around one to one-and-a-half hours long) without issue.
On snow, the Fezzari felt right at home. It was remarkable how different it felt pedaling on pavement compared to snow. On pavement, steering a fat bike can feel slow and sluggish. But as soon as you get on snow, it hits its stride. The steering and balance feel almost delicate. Compared to regular mountain biking, fat biking is all about moving slowly and deliberately. Where you may smash through the same trail at full tilt in the summer on a traditional mountain bike, it's an entirely different experience on a fat bike.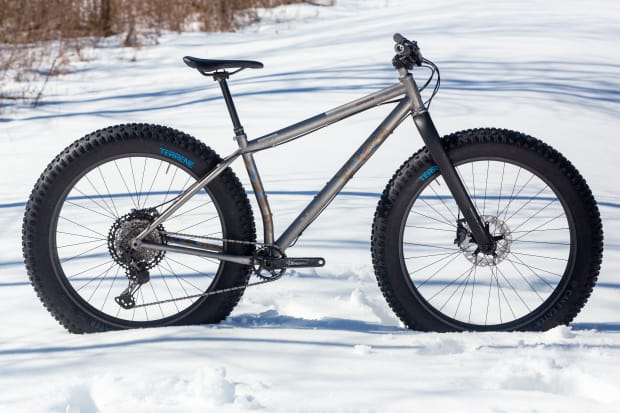 Fat Bike Riding Impressions: Moots Forager
The Forager is as boutique as it gets when it comes to fat bikes. The frame is made in the Moots' Steamboat Springs, CO workshop and can be spec'd exactly as you'd like it. Mine came with some very bling bits, like an ENVE cockpit with a Chris King headset, an ENVE fork, a Bike Yoke dropper post, and a set of HED Big Half Deal carbon wheels.
If you haven't had the pleasure of riding a Moots, I can't recommend it enough. The build and ride quality of the titanium frame are just unmatched. Like carbon fiber, titanium is very light, which works perfectly in a fat bike application to keep weight down. (Compared to a regular bike, fat bike frames require more tubing because the chainstays and seat stays have to be wider to accommodate the wider hub spacing and massive tires.)
But unlike carbon fiber, titanium also has a forgiving and inherently comfortable ride quality. The Moots sort of glides along, composed and refined. In comparison to the Fezzari, the handling on the Moots is quite responsive. On both pavement and snow, it tracks through corners with composure and precision.
Titanium also has the benefit of being rust- and corrosion-resistant. For a bike that's going to see its fair share of grit, grime, and salt from winter trails and roads, it's a nice reassurance to know your frame can take it.
Fat Biking Tips
Though the two bikes had entirely different ride characteristics, there are some similarities and takeaways that apply to the experience of riding both. For one, tire pressure is absolutely key. With snow conditions changing by the minute, it can be difficult to judge your tire pressure correctly. And while you can get away with a whole range of tire pressures on dirt, it's crucial to get it right when fat biking. Too high and you'll be slipping and sliding all over the place. Too low and you run the risk of a pinch flat or denting your rim.
My advice is to go lower than you think you need to. When you nail the tire pressure, your tires deform to increase the size of your contact patch. And in that goldilocks zone of deformation and inflation, you can fly through corners with plenty of grip and rip up short punchy climbs no problem.
With the correct tire pressure and the right snow conditions, I found fat biking to be an ideal supplement to my indoor training routine. While it's not necessarily a replacement for strength or high-wattage workouts, for longer endurance rides or high-cadence work, it excels. If nothing else, it breaks up the monotony of sitting on a Wahoo Kickr and streaming the latest Netflix drama.
Should You Buy a Fat Bike?
This is a difficult question to answer. At the end of the day, it's a quiver bike no matter how you slice it. I wouldn't recommend replacing your standard mountain bike with a fat bike, and if you don't see yourself braving the frigid temps of winter to get out and ride, then it probably isn't for you.
But if you're looking for an escape from your pain cave in the winter months, then I can't recommend it highly enough. Fat biking is a great way to mix up your training routine and an even better way to explore different trail systems—or see your favorite routes from a new perspective. Better yet, there are plenty of options on the market at all price points. For some of the best, check out our guide here.
Related: The Coolest Pieces of Gear We Tested This Week
Source link