Chevy put race numbers on our spanking new Colorado ZR2 Desert Boss. Never mind the amateur status of a bunch of journalists or that we're heading onto the official Vegas to Reno off-road race course in a production pickup truck. Race numbers mean it's game on.
How on Earth GM's liability lawyers signed off on this plan remains an open question, but the idea of beating on a brand-new ZR2 for over 500 miles of four-wheeling clearly demonstrates Chevy's confidence in the new top-spec Colorado. A bunch of engineers has joined our group of nine journalists, hand-picked by GM as being trustworthy enough to explore the capabilities of the new ZR2 and ZR2 Desert Boss trims.
Before we screech out of Las Vegas on Day 1, the engineers brief us on the third-generation Colorado ZR2's mechanical enhancements, which include more power, suspension travel, and armor, a new transmission, and bigger tires—doubling down on all the good stuff, essentially. But engineers are also great to have around in case something breaks (or, more accurately, in case we break something). Over the next 72 hours, they'll certainly earn their stripes.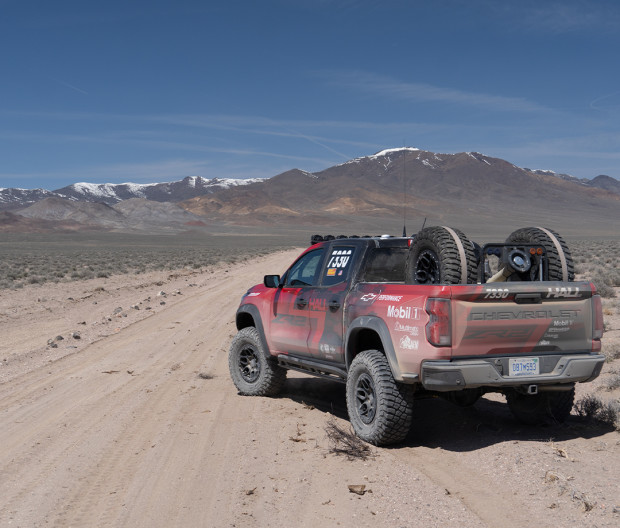 Day 1: Vegas to Tonopah
Our leader on this adventure deserves a place in Chevy Colorado history, having recently won his class at the Mint 400 after bending his race truck's frame about 40 miles from the finish line. Chad Hall is driving that very same truck, it turns out, rebuilt and refurbished for more punishment in the desert.
During the engineers' briefing, I sidle up to Hall to ask what actually happened. Apparently, a new roll cage's welding points put stress on the frame too close to the very middle point between the truck's front and rear axles, leading to taco time after a hard compression. After pointing out some damage to the cab and bed where body panels crunched together, Hall tells me a new roll cage design spread loads further out towards the rear. So we should be good to go.
Related: 2023 Chevy Silverado ZR2 Lifted Truck Excels On- and Off-road
Great, I'm thinking, we're chasing a legendary off-road racer who knows exactly how to push these production pickups to the breaking point. Forget a roll cage, helmets, harnesses, or HANS devices. Three-point safety belts it is. Better yet, I've brought along as co-driver the current reigning champion of the Pikes Peak International Hill Climb—Robin Shute, co-founder of The Sendy Club. Guess we're gonna send it.
Pulling out of our hotel onto Highway 95, a nasty headwind crops up almost immediately. At 75 miles per hour, the larger 33-inch Goodyear Wrangler Territory Mud Terrain tires that come standard on the ZR2 produce minimal road hum. But the headwind pushes Chevy's new turbocharged four-cylinder engine and eight-speed automatic transmission to their limits.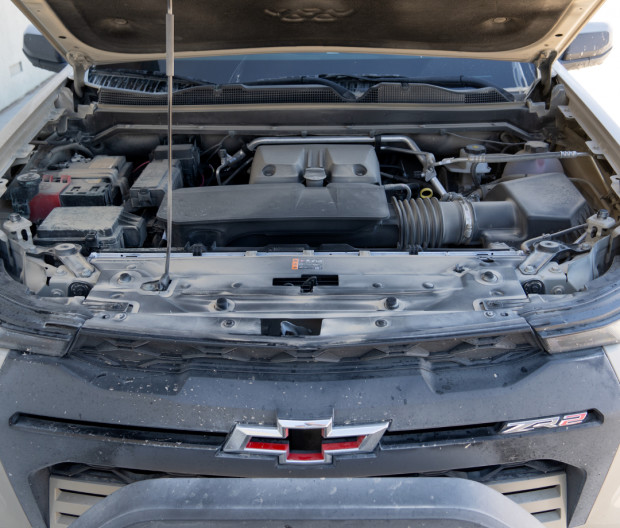 Hauling up grades, the gearbox downshifts repeatedly and the live fuel economy readout shows sub-15 miles per gallon. Meanwhile, our Desert Boss's bull bar, light bar, and half rack also start to howl a bit. But certain sacrifices come with the territory in today's radical off-roading industry, Shute and I hope. Would a diesel perform better? Possibly, but this 2.7-liter gasoline four-banger produces more torque—at 430 lb-ft in Turbo High Output tune versus the outgoing diesel's 369 lb-ft. Once we leave the tarmac, horsepower higher up in the rev range and weight savings (thanks to a lighter engine) should outweigh any struggle at cruising speeds.
Near Beatty, about 18 miles from America's former nuclear test site (and Yucca Mountain, the curent nuclear waste storage facility), we pull off into the dirt. Nobody wants to air down, to my surprise, supposedly to avoid time wasted when switching back to pavement each evening on the way to our hotels and motels. It's here that I get stopped and searched by TSA because my automatic tire deflaters look suspicious!
Related: The Best Side-by-Side UTVs of 2023
After a first bit of rutted trail, we end up on mostly graded gravel roads, so I start playing with the various drive modes available with a twist of a knob to the left of the gearshift. Everyone else recommends the by-now-ubiquitous Baja mode, available only on the ZR2 among all the Colorados, which switches the transfer case into 4-Hi while instructing the transmission to raise shift points and the torque converter to engage more aggressively—all in the hopes of keeping the engine revved up for more immediately accessible boost. Off-Road and Terrain modes similarly futz with throttle response, though Terrain seems to limit our speed to "only" 50 miles per hour. And on those fire roads, we can easily blast past 50, thanks to the ZR2's incredible suspension upgrades.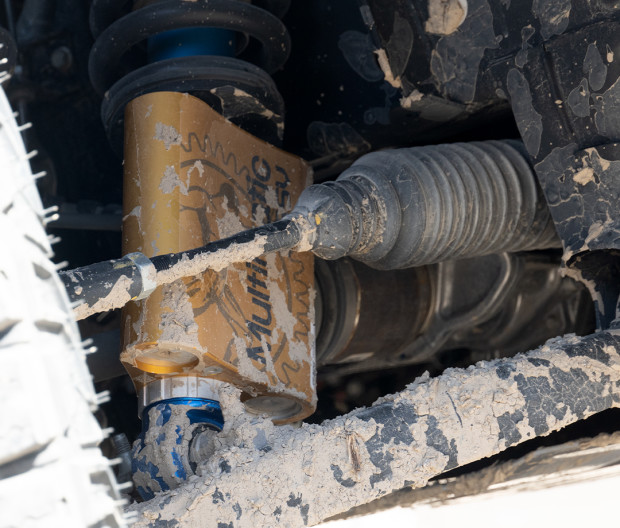 Chevy opted against installing electronically adjustable shocks (à la Ford's Raptors) or disconnecting sway bars (à la Wrangler, Gladiator, and Bronco), but the newest generation of ZR2 sports a 3-inch lift, 10.25 inches and 12 inches of front and rear suspension travel, plus a set of unbelievable Multimatic dampers at each corner. Small washboards disappear almost entirely. Larger whoops float by with aplomb. Even full-on jumps rarely produce excessive jouncing. I can't believe we're not bottoming out or chattering our teeth to pieces, especially with the tires at 38 psi.
Those Goodyears come to mind when we arrive at a series of canyons full of chunked-up rocks, where an epidemic of flat tires begins to hit the group. Nothing so tricky as to require 4-Lo or spotters, but just enough that the ZR2's confidence on relatively smooth roads probably contributes to a bit of overconfidence once we start to slow down. No matter the mechanicals, tires are still the most important part of any car and we should have aired down, which enhances grip and helps prevent flats. But avoiding rocks just becomes part of the game while trying to enjoy a high-speed rip around the desert.
Back out onto straightaways that transition into dry lake beds, dust clouds start to ruin our visibility. I let Shute take over and he wisely slows down, giving the light wind a chance to clear the air from the two trucks ahead of us. Less wisely, the lowered speeds mean we can screw around a bit more, so why not put the transfer case in 2-Hi and lock the rear diff? Unlike some OEMs, Chevy does allow that tail-happy combination—and also the ability to fully turn off traction control and ESC.
Drifting through wide bends and skittering around at pace, Shute flicks the steering wheel around and gets the little truck fully sideways with ease. Part of the reason I invited him was that he formerly owned a previous-generation ZR2, and the grin on his face as he shows off peak driving skill reveals the massive strides that Chevy's team of engineers made for this latest truck.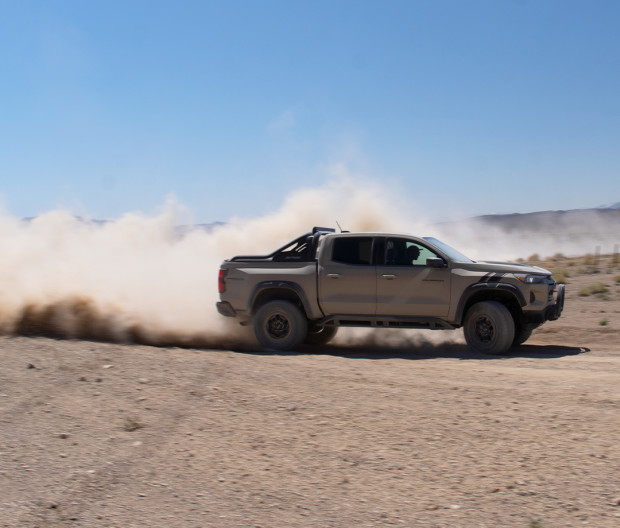 The sketchiest moment of the day comes when I spot a stake in the middle of the road that materializes out of the dust at the last minute. We swerve left, off the graded section and onto sandier lakebed, before a row of creosote bushes forces us back right—and straight toward a two- or three-foot berm that we hit almost perfectly sideways as the rear axle floats around a bit. I brace for impact but the spectacular chassis just gobbles up the mistake—thanks, no doubt, to those revised mounting points for the Multimatics, allowing for so much wheel travel.
Meanwhile, Hall up ahead seems like he's just cruising. The list of changed parts on his production-based race truck can be counted on two hands—revised tuning and cooling fins for the Multimatic DSSVs, a bigger fuel cell, and 35-inch BFGoodrich tires, to name the most important few. Essentially, he's got what the Bison package might look like on the third-gen Colorado.
More on that later, though. After even more flats, we're far off pace and already well behind schedule. Back into 4-Hi, and after a couple more hours of straight-line charging, we're turning back out onto Highway 95 near Tonopah after completing the first day's planned 134 miles. The sun sets orange and dusty on our home base hotels for the night, the main drag all brick facades and oxidized mining equipment in the hills. A pair of old Dodge Vipers, stripeless under layers of dust, hunker down in the quietude as darkness settles in.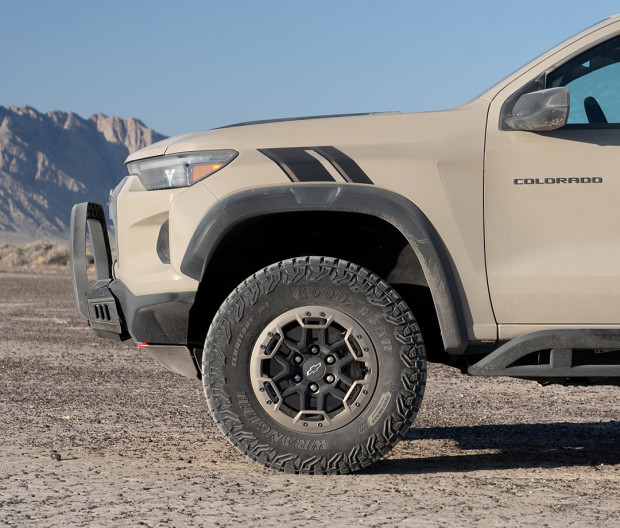 Day 2: Tonopah to Fallon
The next morning kicks off cold and early. Today's planned route includes the majority of the official Best in the Desert Vegas to Reno race course. That's about 220 miles in a single day. This seems highly optimistic to me until we enter a dry lake bed that quickly transitions to more high-speed graded roads interspersed with only occasional ruts and washouts.
Last night, I'd decided to air down the Goodyears a bit and sneakily made my way around all four tires before we left Tonopah. Nothing too aggressive, right around 26 psi in the cold, which I figured would be more like 30 psi with the tires working and warm—not only to improve grip but also so I can avoid being "that guy" who gets the next flat. Happily, over the first handful of miles, our groups seems to have left the flat tire proclivities behind and we make good time.
It seems the Goodyears can fare pretty well with a bit of care. Any braking at speeds above 80 miles per hour or so gets pretty squirrelly, but I've never seen rubber than can handle much better in the dirt. Still, when the first call-out comes over the radio that someone has the first flat of the day, I find myself wishing for the confidence of Hall's race-spec BFG KM03s.
At least we're not that guy, Shute and I joke. But then a weird call comes over the radio: "You're dog-tracking, dude." We ask each other aloud what that means, destined as we are to find out.
Turns out, someone (who'll remain nameless) tore the rear axle off his truck—but suffice it to say, the truck wasn't to blame. As we wait for a couple of hours, eventually doing donuts like dummies to pass the time, everyone wonders what the hell happened.
Later in the trip, I get the scoop. Apparently, after his co-driver called out a big rock in the road, one large enough for saner minds to avoid entirely, this particular Einstein decided to straddle the obstacle at 40-plus miles an hour. Presumably, the rational plan involved testing the Colorado ZR2's full 10.7 inches of ground clearance, skid plates, and rock sliders.
Upshot: The rock slams into the aluminum driveshaft directly on the pinion, jamming the poor piece of sedimentation under the rear axle, breaking off the U-bolts that hold on the Colorado's leaf springs, and debeading the right rear tire from the inside out.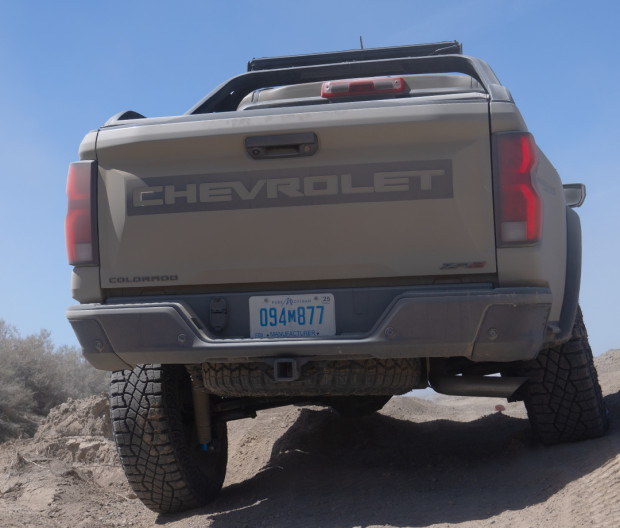 "To finish first, you must first finish," Chad Hall's legendary father, 50-time Baja 1000 racer Rod Hall, used to say. ("Play it safe til the end of the race," I learned quickly while chasing in Baja and at the Dakar Rally.) But sometimes, you just know who's going to be trouble. At the start of Day 1 behind this particular driver, Shute and I both immediately spotted peculiar wheel placement on ruts, unnecessary spinning tires, and a decided lack of throttle control on climbs, plus terrible line selection at all times—basically, an amateur riding too much horse for his skill level.
Chevy's crack engineering team somehow gets the broken truck running again by removing the bent driveshaft entirely and putting the truck in 4-Hi with the front locker engaged. Talk about creativity. The ZR2 gets back to asphalt under its own power and we can continue our day, albeit a few hours behind schedule by only around 10 a.m. We hustle down more graded roads and a few untouched washes that turn driving into something closer to powder skiing.
After playing with all the settings, I find my preferred combo is Normal, 4-Hi, with TC and ESC fully off. Normal seems to coax the transmission into leaving the torquey turbo-four at lower rpm's without downshifting, which allows for better throttle modulation coming in and out of turns. Shute likes Baja more, with a bit of left-foot braking to keep the engine wound up at lower speeds. We both agree paddle shifters would go a long way toward smoothing out the power delivery.
But this is tech in the modern era. Would you trade fewer electronics accessible through multiple menu options if it meant sacrificing Apple CarPlay? I keep my music blasting over the Bose sound system and OnX Offroad up on the 11.3-inch touchscreen. Shute and I both laugh every time the group makes a wrong turn, since I used OnX's new Route Builder feature to trace the route's GPX file and created a Waze-like trail that nailed almost every single aspect of our long journey.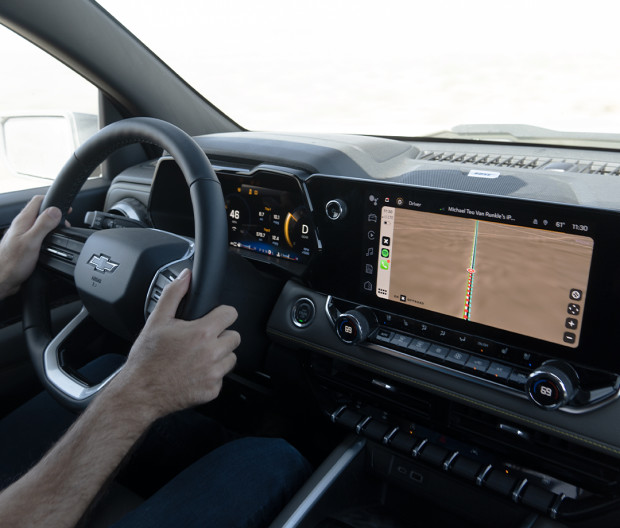 That long journey ends up a bit shorter than expected—again, through no fault of the Chevrolet Colorado ZR2. In a canyon at nearly 8,000 feet of elevation, we find a few deep patches of snow that coax Hall to put his truck in 4-Lo with all three differentials locked. He squiggles up as far as possible, then needs a tow to get out so we can turn around. It's lucky I aired down, since our truck goes up to break him free. Nobody listens as I valiantly try to explain that 4-Lo and lockers only create more instantaneous torque and wheelslip in snow.
I suspect we could have made it up over the pass, but the north-facing descent to come may well have caused even more problems. Anyhow, we're hours behind schedule, so the Chevy team game plans while we stop for burgers. Over a shorter afternoon stint post-lunch, mostly made up of fire roads and a few more washes, Shute and I settle into a rhythm, dialed in to avoid rocks but somehow now paying more attention to the stark Nevada desert dotted with a few cows, plus a startled herd of wild horses.
The group starts to split into those who can keep up and those who can't, before we hit pavement once more and regroup. After the delay and turnabout, we skip out on about the last 100 miles of race course and drive into Fallon, NV, for hefty portions of carne asada and bathtubs masquerading as margaritas.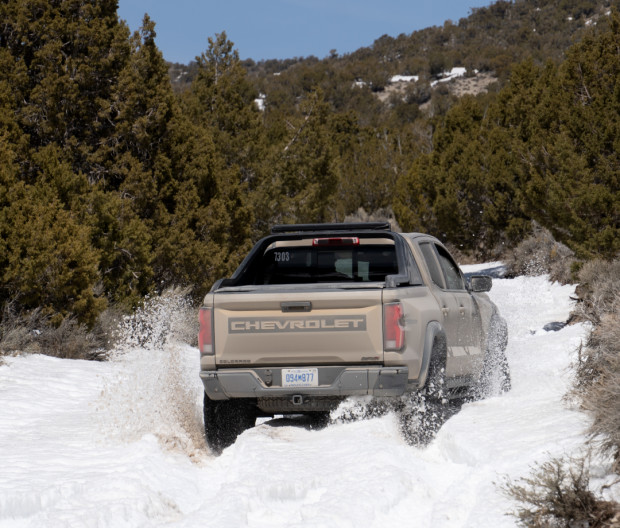 Day 3: Route Recalculation
The final day starts a bit later, after our team of leaders decides to skip another high pass known to require some serious rock-crawling that's potentially covered in more snow. Instead, we head back to flat desert, this time with some fun whoops interspersed between the washboards. Our aired down tires only further unleash the Multimatics now damping at their sublime best. The DSSV tech does so well that I almost forget we're in a leaf-sprung solid-rear-axle truck. We only bottom out once or twice—and only after catching air under the front or rear tires.
The course transitions to sandy ruts which require zero steering input as we jostle our way through. The ruts then give way to a few portions of elephant tracks that hint at the ZR2's additional articulation. Everyone laments that we missed out on the rock crawling, which would have shown off this truck's enhanced approach, breakover, and departure angles. We might have even put a few scars on the skid plates and sliders.
More importantly, some technical terrain might have provided a more apt basis for comparing the ZR2 to its competition: the Jeep Wrangler and Gladiator Rubicons and Ford F-150 and Bronco Raptors. (Forget the Tacoma. Even in TRD Pro and TRD Off-Road spec, it's leaps and bounds behind in this race.) The range-topping Jeeps and Fords also both come with lockers, impressive articulation stats, and peppy powertrains. Now, if only the ZR2 also got disconnecting sway bars.
After completing 360 miles out of a planned 495-mile off-road race course, we reach the finish line with every truck in every color looking better covered in dirt, sand, and mud. Back on the highway, the inevitable conversation about comparables crops up. Against a Raptor, the ZR2 delivers nimble dynamics but nearly similar high-speed ability. Compared to a Rubicon, Chevy's interior ergonomics and tech, plus the on-road comfort of independent front suspension, all stand out.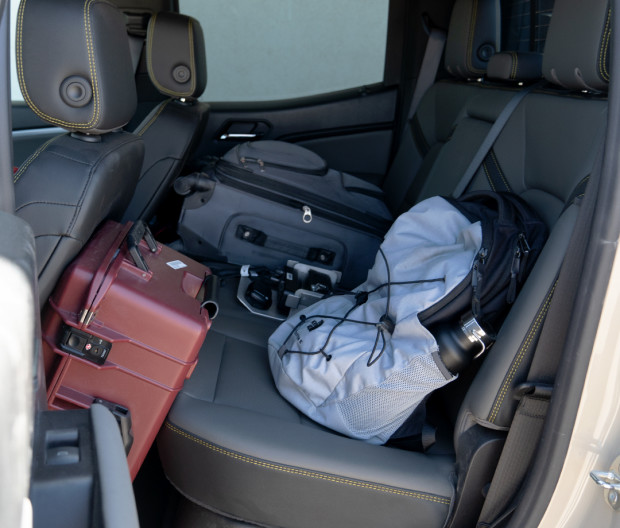 Our ZR2's onboard computer declares an average of 12.5 MPG over the whole 671-mile trip, including on and off-road. But unlike Hall's race truck, the Colorado's 21.4-gallon fuel tank requires frequent stops to fill up—another consideration given this generation's lack of a diesel for towing. The rear seats are a bit small, just enough to hold gear for two people and a radio for three days racing Vegas to Reno. Otherwise, toss the rest in the truck bed, which fills with dust despite a flimsy tonneau cover.
While we celebrate a mainly-successful adventure over brats and a few beers, Chevrolet pulls out the expected wrap-up present—a first look at a camouflaged truck that may or may not be the new Bison. Our ragtag group fawns over this teaser, fully aware that it's basically Hall's race truck in production form—with a little more lift and retuned Multimatics, 35-inch tires on AEV wheels, though I spy no paddle shifters or button for disconnecting sway bars. Will Chevy re-gear the Bison for a bit more pep, which the ZR2 could certainly use while highway overtaking? The reps and engineers wouldn't even verbally confirm we were looking at a Bison in the first place, so we'll see.
Pricing, of course, will play into the Bison's potential success in an increasingly crowded off-road market. The ZR2's starting sticker of $46,800 makes a strong case for skipping a kitted-out Bronco or Gladiator. But start tacking on more goodies and the competition gets tighter. Even among the Colorado lineup, Chevy almost delivers too many good options. A base ZR2 on 35s or a Trail Boss with the $395 high-output dealer flash, aftermarket shocks, and 33s spring to mind.
For now, the Colorado ZR2 demonstrates supreme bang for the buck. Expect wait lists when sales begin in Q2 of this year. Meanwhile, Shute and I can look back on a wild trip knowing that we never got a single flat tire or broke anything on our truck. Despite a fair amount of hooning, it turns out that keeping a sharp eye out for nasty rocks, random stakes, and ideal lines goes a long way. But that's all thanks to Chevy's confidence in the truck itself, which championed an adventure unlike any other.
[$46,800;
chevrolet.com
]